In Nepal the number of Covid cases is climbing and has nearly reached 16,000 today (4th July). As has been said many times, this is a very conservative estimate because testing is limited, although it has increased recently, with 740 tested positive in the 24 hours leading up to yesterday afternoon. The death toll stands at around 34 people.
There are still many thousands of Nepali people on the Indian/Nepal border desperately trying to get back into Nepal because they have had no work in India since the lockdown began in March. Those that are succeeding in getting back to their home villages are sometimes experiencing a hostile reception, in some cases a violent one, and some have died from starvation and illness with no support from the village they were trying to reach, and little from the local authorities. This is a growing tragedy, but even when they are accepted back into their villages, the problem of food shortages is growing, with village populations expanding at a time when food availability has decreased. Along with these problems, some of the returning Nepalis are bringing Covid19 with them, and most of the Covid cases are appearing in the southern districts, with 39% arising in Province 2 where our centre at Lalgadh is situated.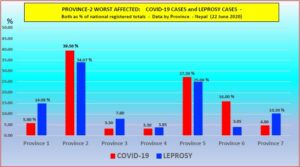 The Provinces in Nepal
At Lalgadh, the defences have been tightened with strict following of Government and WHO guidelines. An extra boom gate has been set up inside the main gate to ensure people can be directed to the fever checking station before proceeding to the outpatients.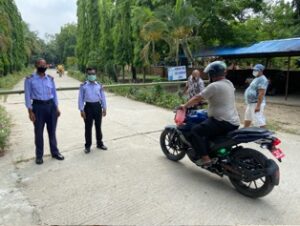 Boom gate
In the treatment areas, masks and protective equipment are used as about 130 patients per day attend for help with medical problems. The team is seeing more patients now, and life in the surrounding villages has to carry on, as it does here, and so people get ill, babies are born, emergencies happen.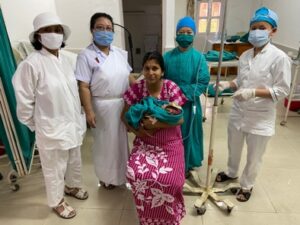 Patient consultation with masks
The inpatient department is continuing its work, looking after about 40 people affected by leprosy and a few others with various different problems.
In the community, there are quite a number of vulnerable people that our community team are connected with, and the team has been supplying food and other relief supplies to them as they have been able. They have recently received some extra funding to do more of this and should be able to support an additional 600 needy families.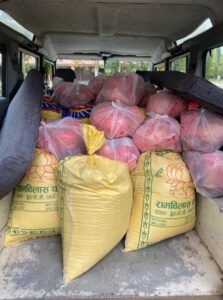 Food supplies being unloaded from an NLT Landrover
Phulo Devi, 75 and badly disabled by leprosy
To help villagers understand the problems better, our teams have been giving some training on Covid19 measures and also trying to reduce the fear in people's minds that has been leading to hostility towards villagers returning from elsewhere.
So life goes on and the team at Lalgadh are doing what they can. They are enormously grateful for the help and support they have received from many people and some organisations, which has enabled them to continue the work despite the serious financial challenges that the pandemic has created. There is anxiety amongst the staff, and some who live in the village nearby have also faced hostility from other villagers because of their connection with the hospital. But God is faithful and will keep the work and our staff there safe, as they continue to serve the community around them with medical care, and other support whenever possible. Do please keep praying for Dr Graeme, his wife Meena, Dr Krishna and his medical team, and all our other colleagues there, as they provide help at the sharp end of a very difficult situation.
Many thanks.
NLT