Our visitor schedules were disrupted in 2015 and 2016 by the earthquakes and general strikes and a border blockade, and have been disrupted again in 2020 and 2021 by the Covid pandemic. If you would like to visit our centre at Lalgadh when things get back to normal, you will find an application form, some notes, and some visitor reports from previous years that will help you get a sense of what it might be like to visit Lalgadh. There is also further useful information and pictures below these reports.
In November of 2019, NLT also organised an 'envisioning trip' to Nepal for supporters and others wanting to find out more about NLT and the work that it does in Nepal. The trip was very successful and the participants were amazed at how much they learned about Nepal and the unexplored areas of the Terai where much of NLT's work goes on. The cost for two full weeks was a little under £1500 per person and we hope to run the next trip in 2022 if things settle down post-Covid. If you are interested please contact us on info@nlt.org.uk.
short term visitor notes Dec 2016
NLT UK Safeguarding Policy may2019 complete with appendices
Amanda Johnstone's visit – 2009
Two days in a visit by Chelsea – 2011
Diary of a Month at Lalgadh – 2009
The Ellins Family stay to help at Lalgadh – 2012
Max deSancha – A Midsummer Researcher's Dream – 2013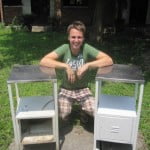 Yvonne Simmonds – visits in 2014 after 18 years
An opportunity to familiarise yourself with the workings of a leprosy hospital.
A variety of people visit Lalgadh Leprosy Hospital and Services Centre every year. Most visitors are students – often on medical electives – but nurses, podiatrists, qualified doctors, anthropologists, public health graduates, physiotherapists, occupational therapists, builders, IT specialists, missionaries, gap year students, and past visitors have all visited at various times. Most go to learn, and the reality is that our staff are dealing with leprosy and other local diseases all the time and are therefore experts in this field. But visitors can also contribute, with practical help, English teaching, specific trainings, useful study projects, etc, and have been a blessing as well as blessed by their time at Lalgadh. Almost all visitors have a very good time, and for many it has been a defining time in their lives when their personal creed and values have been challenged by seeing real poverty and destitution, and experiencing face to face, some of the problems of daily living faced by much of the world's population.
NLT accepts visitors throughout the year. The average length of stay is between 6-8 weeks and anyone can apply through our UK office. You will receive a booklet filled with advice (PLEASE READ IT) and an application form which is required and forwarded to Nepal where the Management Team at Lalgadh Leprosy Services Centre will consider your application and decide whether you will be able to visit the hospital. If you are accepted there is a registration fee of £95 GBP to cover admin costs both in the UK and Nepal, and you will be contacted for an interview with the UK office team. All being well, you will then be able to plan your visit, book flights, organize vaccinations, etc.
Due to the unsettled political situation in Nepal you will need to be flexible. If the situation flares up during the time you are due to arrive, NLT in Nepal may recommend postponing or canceling your trip. At present, things are fairly stable, though there are still problems at times in the Terai (Southern Nepal). We therefore have to rely on local information to guide us with regard to visitor safety at Lalgadh, and this guidance will be adhered to.
Costs
Short-term visitors are not paid an allowance by Nepal Leprosy Trust and will have to pay for their own costs. The major cost is likely to be the airfare to and from Nepal which varies from £500 to £850 GBP. The journey from Kathmandu to Lalgadh is about 8 hours by bus (at a cost of £15 to £20), 7 hours by land rover or Tata Sumo taxi, or half an hour by plane to Janakpur airport plus 60 minutes by land rover. The airfare is approx. $120 for a single (one way) flight which should be paid in US dollars. Please bring US dollar currency to pay for this. It is possible that NLT can arrange for you to travel from Kathmandu to Lalgadh in an NLT vehicle if one happens to be scheduled, but you should budget for two single domestic flights, or the bus or taxi fare. Due to the political situation in Nepal there are sometimes transport strikes, so any travel must be arranged with a degree of flexibility. Comfortable but basic accommodation is provided at Lalgadh and currently costs $20 USD per day (with a discount for students). This includes laundry and Nepali food. There will be additional charges for special transport, communication such as phone use, and for any specific purchases of food etc, requested by you, outside the basics supplied within the accommodation cost. However, on balance the living costs in Nepal are quite low.
Accommodation
As mentioned above this is currently charged at $20 USD per day including food and laundry. The meals are basic Nepali-style – daal bhat (rice, curry and lentil soup) twice a day and Nepali breakfast. Note that the food tends to be fairly spicy and there is no western alternative except for some sliced bread which is provided in the acommodation with butter and spreads for those who struggle to face a Nepali breakfast.
As we are a Christian organisation there is a ban on alcohol at LLSC and we also ask that you do not smoke.
Weather
For most of the year the weather at Lalgadh is hot or very hot. May to July is extremely hot. Nevertheless, it can be cool at night in winter (December – February) so be sure to bring at least one jumper. Kathmandu can be very cold in winter. Heating in the houses is poor or non-existent.
Other Info
Accommodation can be arranged for you for your first night(s) in Kathmandu in a small hotel or guest house.
or Patan. The cost will be around $15-$20 per night not including food. Please inform the UK office if you wish to make other arrangements.
When you return to the UK we would like a 2 page report of your time at LLSC. This may be used for our newsletter as we rely on regular up-to-date information. This could contain observations of the people, hospital, culture and anecdotes, etc. If you write any article or report on your visit to Lalgadh for outside publication (however small the circulation), you must submit the article to NLT before publication or circulation.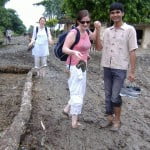 Recommended Reading
(all available used on www.amazon.co.uk):
Lonely Planet Guide to Nepal – Hugh Finlay

Publisher: Lonely Planet Publications

The Travellers Good Health Guide – Ted Lankester
Pain: The gift nobody wants: Memoirs of the World's leading leprosy Surgeon – Paul Brand
Famine and Face Packs – Emma Stratton
We want you to gain an insight into the challenge of leprosy and an informed interest in the lives of people affected by the disease and the work of the Nepal Leprosy Trust. It is therefore best to aim to be at Lalgadh for at least 2 to 4 weeks which also allows for strikes and disruptions.
Under Nepali Government rules, non-Nepalis require the equivalent of a work permit before they can undertake formal work within the country. You will not have a work permit and will therefore not be taking up a formal work role: you will be visiting NLT's projects in order to observe and learn. You will also have an opportunity to share in the life of NLT and the community.
There is also the option to carry out your own specific project/research at LLSC. For more details please contact us.