Lalgadh – a place of hope
By Amanda Johnstone – December 2009
Nepal, a land I was quickly associating with heart-wrenching beauty, superimposed with utter poverty. The determination and tenacity of a small Hospital 45 minutes past the Hindu pilgrimage town of Janakpur is perched on the dusty brown landscape like an emerald colored jewel. This oasis, situated in one of the poorest regions of Nepal was to be my education, my home and my family for the next month.
A woman of indiscriminate age limps into the wound care department, and slides gingerly into the elderly dentist chair that emits the permanent smell of surgical spirits. Her file states an age of 46 – but when asked she simply shrugs like so many here at the hospital. Trusting brown eyes framed by long lashes peer out from behind a, red and gold work worn Sari. She has traveled from India  be here, mainly because the treatment is free for those who have no money, but in addition it is also the one place that the stigma that surrounds her can not reach. She tells me, through the helpful translation by *Woundus*, that her Husband has left her and her children have disowned her – such is the intense fear surrounding leprosy that whole families can be shorn apart.
Her left foot is propped up and the smell of decaying human flesh, ravaged by a bacterial infection hits me. Curling like thick smog into my nostrils and settling in the back of my throat in a cloying bitter aftertaste. *Woundus* tuts, shakes her head then beckons me to the gaping hole where the 3rd metatarsal head would normally be.
In her slightly broken English she asks what I can see. I look from head height in order to keep as far away from the
smell as possible. I note bones – the ends of her metatarsals staring back at me, slough and blackness – which I assumed to be dead flesh. No *Woundus* instructs, look closer. So I bend down to inspect the wound at eye level, trying to hold my breath as I do. I suddenly noted the blackness was pulsating, glistening in the wetness. Maggots! Declares *Woundus* and tuts again, Very bad, very smelly. I look up at the patient who stares back at me with sad brown eyes and my heart breaks for a women who, so afraid of her Leprosy, has allowed maggots to invade her body before she plucked up the courage to come to a hospital.
The team busy themselves with the instruments they will require, gauze, tweezers, scalpel, a metal wound probe plus a decent amount of saline and metrobenzole . As *Woundus* digs in and begins to remove the maggots the women moans and crys out. *Woundus* tells me that the women is in much pain and it appears that she is one of the unlucky ones. Her nerves are impaired enough to cause damage, but the damage is now so extreme it has reached viable nerves – in other words, total agony. I throw off my cultural concerns over touching and offer my hand to her. She clutches it within hers and for the next hour I comfort her as *Woundus* continues to pull out maggot after wriggling maggot.
Finally her wound is flushed and packed with gauze and betadene and she will be placed on antibiotics for the infection. However despite this being a complicated ulcer with bone involvement, Lalgadh simply does not have enough beds, and today there are no beds are available on the wards. She is however one of the lucky ones and is allowed to wait on the compound until one becomes available. This could take a day, a week or sometimes longer.
As a New Zealand student who had just finished my second year of Podiatry training I was brimming with excitement to have been accepted to work alongside the staff of Lalgadh Leprosy Hospital in Nepal. I was particularly interested in observing wound debridement and therapy, but knew that along side this was a plethora of other areas that would be of interest to me, including the physiotherapy department, footwear and surgery to name just a few.
Yet my time in Lalgadh taught me so much more than observing and participating in medical work. Yes, I learned a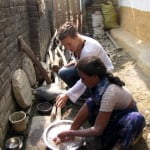 huge amount from all doctors, nurses and staff who were always delighted to not only allow me to watch, but to explain procedures and allow me to assist where appropriate. Through this I gained valuable experiences I could never have had in a western country and will be forever thankful to the staff and the patients for this.
However I also joined in with community activities wherever possible, enjoying church, dinners with the staff who quickly became my friends as they taught me how to make Momos and then the enjoyment of devouring them!
I travelled jungle paths and chatted to the locals, walked for hours on dry dusty river beds with frogs leaping around my feet. I rode on the back of motorbikes with wind in my hair and the darkness of the night rushing around me to sing Christmas carols and afterwards I was plied with curry, celroti and copious amounts of sweet milky Napoli tea.
I enjoyed picnics with the locals and with the Lalgadh community, learning how to dance the Napoli dance and then
basked in the warm compliments as I picked it up. I traveled out of Lalgadh and visited Birgunj on the boarder to India and Sindalee. I was gifted traditional Nepali clothes and a Ratu Sari from the good friends I made in Lalgadh.
Throughout this journey I worked, I learned, I made friends, I danced, sung, cried, loved, laughed was scared and excited. By the end I had changed, in a way that is impossible to describe. Yes, changed by the medical knowledge I gained, but more so by the people, patients and staff alike, who live upon the emerald jewel and whose hearts are so big they swallowed me whole.