We have received two lovely new items from Nepal.  One from our workshops in Kathmandu and one from Lalgadh where our hospital is situated.
Kathmandu sent us some lovely foldaway shopping bags made from silk sari material.  Light enough to go into your handbag for that little bit of shopping you need to do in the week!  They are extremely strong and very attractive.  They come in all sorts of colours  with zip closure.
From Lalgadh  we received foldaway shopping bags with straps long enough to go over your shoulder. These bags were decorated with  lovely maithili art,  depicting how they coped with covid.  Our first delivery sold out  more or less straight away. Our second delivery has just arrived – and already the numbers are going down quickly.  There is obviously something irresistible about them as people are really attracted to them. People always comment on mine when it comes out after a bit of shopping!!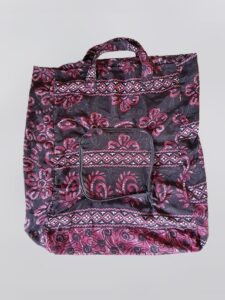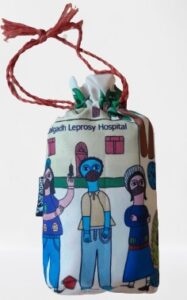 The silk bag is  £5.00 plus p&p and the maithili bag is £6.50 plus p&p.
A lot of people have bought them as presents, not only because they are relatively cheap but also because you can't buy them in the shops.  They are different and utterly delightful!
To order please ring 020 8940 1200 or email at Info@nlt.org.uk