One of the many ways that NLT raises money to support their different projects is by selling Christmas Cards.
Will you help us in this venture?
We have 2 types of cards that measure 14cm square:
Riding to Bethlehem
and Travelling Kings @ £4.00 per pack of 10.
Then we have 5 sets of cards that measure 10.5 square:
Gifts from Afar,
Gold, Frankincense and Myrrh,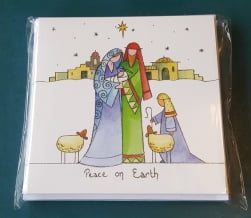 Peace on earth,
Road to Bethlehem
and Star over Bethlehem @ £3.50 per pack of 10.
Postage and packaging is a bit extra.  £0.95 for small cards and £1.30 for larger cards. Please ask for p&p details when ordering larger quantities.
If you would like to order some cards please do email: info@nlt.org.uk or ring 020 8940 1200.
Thank you