Mr Donald Sammut is a consultant hand surgeon working in the UK who has visited Lalgadh several times and was there again in November 2016 to give training to our two surgeon Dr Krishna and his medical team. Donald has provided much new equipment to the team and has raised funds for this equipment. His work at Lalgadh has enabled many people to receive surgical corrections to badly deformed hands. Most of these could never have afforded such an operation and the lives of many of them have been transformed by these operations. Some of these people have been affected by leprosy and some have had other problems such as burns contractures, congenital defects, etc.
The 2016 visit included a friend of Dr Sammut's, a reportage artist called George Butler who was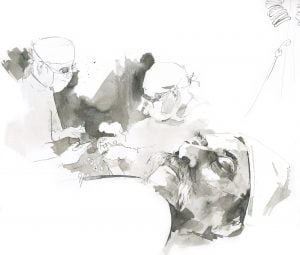 able to bring the surgical work to life through his rapid sketches of the activity.
To see the report on the 2011 visit click HERE
To see the post on the 2016 visit click HERE
Donald visited twice in 2019, the first visit in January being a delayed 2018 visit. November 2019 was his last visit, 2020 being over-shadowed by the Covid pandemic.
For more information about Donald's work, visit his website at www.donaldsammut.com