NLT's Leprosy Hospital and Services Centre at Lalgadh (LLHSC), southeast Nepal, mainly serves the 6.5 million people in the eight surrounding districts of Province 2 where leprosy is most  endemic. However, many patients come from farther away, including India.
It provides: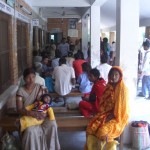 Examination and diagnostic services (such as sensory testing, laboratory services, etc) for a range of leprosy-related and other conditions. This picture shows the waiting area at a quiet moment. It is often crammed full of patients, some of whom will have travelled for several days to get there. The record number of patient visits in one day is currently 904. In 2016 there were over 100,000 visits to the centre, including about 3,500 visits to our satellite clinics.
---
Out-patient treatment services, including: multi-drug therapy (MDT); prevention of disability (POD); podiatry (foot-care) including specialized footwear and orthotics; physiotherapy; extensive laboratory services; X-ray and ultrasound services; neo-natal, post-natal and delivery maternity services; accident and emergency services.
---
Out-patient services also include diagnosis and treatment for a wide range of skin conditions and other primary health care issues, supported by a busy laboratory and pharmacy. Because patient numbers have risen steadily, and the original facility was only designed for the 12000 thousand annual visits from people affected by leprosy that were envisaged, the OPD facility was expanded in 2016, with help from the American Schools and Hospital Assistance Programme, and several new buildings came into use during 2017, including an accident and emergency unit.  A new pharmacy extension also opened in August 2016, a new maternity unit, and a children's ward to improve the accommodation for younger people.
Inpatient services include the treatment of reaction, neuritis and the other serious complications of leprosy. Some of the treatment includes various kinds of surgery for complex ulcers, nerve decompression, and reconstructive surgery to correct deformity and restore lost function to hands and feet.
In the background, there is the challenging job of recording all the patients  and ensuring that their treatment is monitored and managed. In the 25 years or so since records began at Lalgadh, we have collected records for nearly 45,000 individual people who have been treated for leprosy at Lalgadh. Many of those come back from time to time for follow-up and further help. During 2021, a hospital-wide computerised management information system was installed to make the coordination of supplies, patient treatment, cost analysis, revenue management and accounts management, more streamlined and this is working well.
To make it easier for people affected by leprosy who live in the rural parts of the area around us, and who need to access the services of Lalgadh, a number of satellite clinics have been established. These clinics are at strategic locations in our work area and small teams of staff attend to provide specialist services at a local level. In 2019 our responsibilities were increased to cover 8 districts with a population of 6.5 million people, and so these clinics are being gradually expanded to accommodate this. This is challenging because of the time it can take to reach them, and is a work in progress.
LLHSC works closely with the Leprosy Control Programme of Nepal to ensure that the combined efforts of LLHSC and the Government services can deliver the maximum benefits.
The Centre at Lalgadh records about 45% of all the new leprosy cases identified in Nepal, and is one of the busiest centres in the world with regard to new cases.