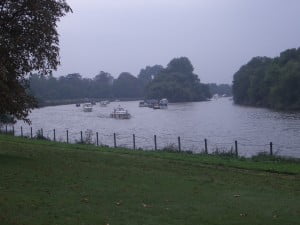 The Plan:

Meet at the NLT Office (10A The Vineyard, Richmond, Surrey, TW10 6AQ) between 09:45am and 10:20am. (See map below)
It is probably best to park in the NCP car park nearby in Paradise road (see map below). Unfortunately there is a rugby match at Twickenham in the evening and the A316 will be shut from about 5pm so it would be best to avoid the northern side of Richmond.
Bring some wet weather gear in case it rains. You can also bring some lunch or buy some at Kingston.
When assembled at our office, we will walk to the nearby bus terminus aiming to catch the 10:34am R68 bus to Hampton Court Station. Buses leave every 15 minutes so if we are delayed, we can catch the 10:48am bus.
Arrive at Hampton Court around 11:15am and assemble on the Thames path adjacent to Hampton Court Palace. At around 11:30am we will start walking along the Thames Path towards Kingston and Richmond.
We can stop for lunch around 1:30pm, probably in the vicinity of Kingston. Either bring your own lunch or food can be purchased in Kingston.
There will be light refreshments at the end of the walk at the NLT office.
Those wishing to start with us but leave early for other engagements, could park in Kingston and catch a bus to Hampton Court from there, Meet us at Hampton court, walk with us to Kingston and then find their car again.
Alternatively, you could join us at Kingston at lunchtime and walk with us to Richmond.
Please do come, it is a lovely walk if the weather is reasonable, with lots of great views. And if you can raise some money from your friends for our work amongst people affected by leprosy, then so much the better!
Email questions to mike@nlt.org.uk, or enid@nlt.org.uk, telephone us on 0208 940 1200. Email us for a contact mobile number for the day's event.
SEE YOU THERE!
Directions to the NLT Office:
Click here – directions to NLT