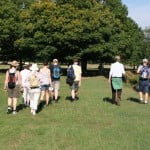 The "Stride" took place in the sunny and pictoresque Park in Richmond last Saturday (1st October) and it was a really lovely walk. Those who took part were NLT Trustees, the UK office Team and a few friends, totalling 12 adults, 3 small children, and a gorgeous rough haired collie dog.
The striders were very well supported by our Refreshment Team who prepared snacks at each rest point, waiting alertly and at-the-ready, for our arrival with tea coffee and cold drinks.
The weather was fabulously hot and sunny but the walk provided plenty of shade so that even the less-able walkers could enjoy the experience. Lunch was a feast, and spurred the team on towards the end point – where the cars had been left.
We hope that the Stride against Stigma will become an annual event that could attract a wider variety of our supporters, and could take place at different venues around the country. Those that came this time had a thoroughly good time and it was a shame that more folk did not respond to our appeals in the newsletter, as they missed an enjoyable day . It may be that we need to find another way of encouraging people to join this kind of event. If you have any ideas, please do share them with us.