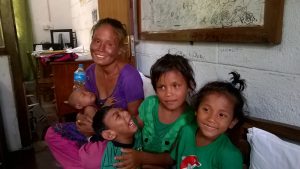 You will remember from our last letter that Kalpana, one of our patients, was facing a very difficult future with no home, no husband, and four young children, including one with cerebral palsy.
Your help has made a huge difference and Kalpana is much better, the two girls are going to our Sunrise Academy school, and the family has a new house nearby which is nearly finished and will belong to them.
Kalpana has gained strength and health and is working again, using her skill in gravel-sorting, while our staff help her to develop some new skills that may make independence easier and less back-breaking. We met her in June and were very encouraged to see how positive and cheerful she was compared to earlier reports. She is getting on better with neighbours as well, and the children seem happy. Kalpana was able to talk positively about her work and about her future, and life really seems to have turned a corner for her. Thank you again for your help and support for this precious lady and her family.