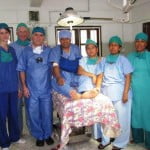 Dr Donald Sammut and his colleague Dr Nola Lloyd have just completed a week of hand surgery at Lalgadh Leprosy Services Centre that has seen 27 people, many of them children, receive operations to correct deformities of the hand. Many of these people have been people affected by leprosy but some have been general problems such as congenital deformity.
This type of reconstructive surgery can transform a person's life as they regain important lost function, and also regain a "normal" appearance. For people affected by leprosy, who have been stigmatized by their deformity and unable to participate in normal community life, an operation like this can be the key to allowing them back into their community.
This surgery uses extremely fine instruments and Donald and Nola took quite a collection of these to Lalgadh to leave there for the team there to use. Apart from the benefits gained by patients like Dulari pictured here, Donald uses every surgery to train Lalgadh's own surgical team so that they can carry on the work even after he has gone home.
---
Some of the Children who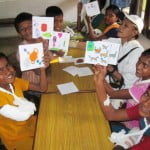 received surgery are pictured below with Meena Clugston, wife of Dr Graeme, making Christmas messages for supporters in the Clugston's home church.
Huge thanks to Donald and Nola,  the team at Lalgadh is looking forward to your next visit.
Read Dr Graeme's account of the visit – click here Hand Surgery week at Lalgadh Hosp 2Dec2011