This trip will generate many treasured memories.  The people, the culture, the scenery are all unique and beautiful in their own way.
In a visit t
o Lalgadh, apart from seeing the hospital at work in its usual daily routine, there will be the opportunity to visit a Self Help Group in a small village, possibly near Janakpur.  There visitors will meet and sit with the local people as the meeting progresses.  Hearing the stories of their lives, having suffered with leprosy, the benefits gained from being part of  the group and their hopes for the future.
Also in Kathmandu there will be a chance to visit the leather workshops,  bead workshops, Batik and felt studios, looked after by Kamal.  Goods are sold in UK and other countries.
There will also be fun time arranged.  A trip to Chitwan Nationa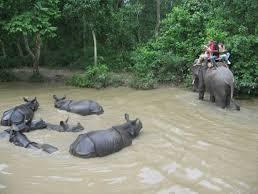 l Park for 2/3 days.  Oh the joys of waking up first thing in the morning and hearing elephants trump and later the chance to ride on one!
Also not t
o be missed is Durbar Square and the many markets where you can shop to your hearts content.
Costs: £2,000 approx.  Accommodation:  shared rooms
Food:  Nepali style.
Please do contact us if you think you may be interested in being a part of this adventure