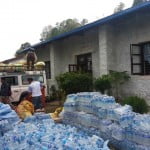 Yesterday (Tuesday 12th May) afternoon at about 12.50pm Nepal time, another large earthquake measuring 7.3 occurred, centred near the district of Sindhuli, just north of Lalgadh. Thirty minutes later a second earthquake measuring 6.8 took place slightly further north.
Firstly to reassure you that our staff are OK, even though two teams were out delivering relief aid in the affected areas at the time of the earthquakes. One team in a village at the southern edge of the Kathmandu Valley had houses collapsing around them. The other team, including Dr Clugston was in the hills of Sindhuli and was well shaken but not hurt, but also had a birds-eye view of some of the heart-breaking destruction being caused by the quakes. Many more houses were damaged, and some that were slightly damaged in the first quake were finished off by yesterday's.
Please continue to pray for the efforts being made to bring relief, and especially for those people who are not yet on the map of the relief agencies, and who wait, with little or no shelter and food, for help to arrive. Nepal Leprosy Trust is helping directly in two areas and would value your support. Our relief supplies are being obtained from India and so we are not handicapped by the difficulties that some organizations are facing at getting supplies through the official system. If you feel to help then please donate using the Give.net button to the right of this window.
Our very sincere thanks to all those who have supported NLT in its efforts to provide relief to many desperate people at this extraordinary time – we are immensely grateful.