The NLT sponsored walk took place on 3rd October, on the wettest Saturday we have had for ages! Eight of us gathered at Ibstone Common with a dog called Crumble in tow, and we spent some time dressing up in lots of waterproof clothing. The rain was coming down steadily but not too hard, so we were able to talk and walk easily, and enjoy the lovely countryside in that area. After a few miles we came to the windmill that was made famous in the Chitty Chitty Bang
Bang film, set on the ridge of a hill above the village of Turville, and some other, wet walkers, took a photo of the NLT group. Down the hill in Turville village itself, we explored the church made famous by the 'Vicar of Dibley' and then searched for somewhere dry to have lunch.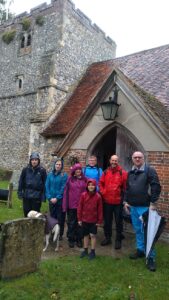 Unfortunately, the pub had a closed reception in progress, but the landlord allowed us to sit in his garden under an awning, and enjoy our sandwiches and even made us coffee and chocolate. From there we ventured back into the rain which was falling a lot harder now, and climbed up the opposite hill and along the other ridge of the valley, before crossing the valley again for the home straight, back to the cars. It was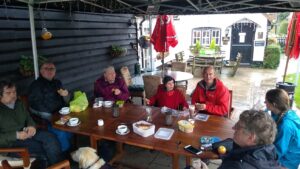 about 9 miles all together and included a lot of good conversation, amazing scenery – even in the rain – and some interesting history. When we arrived back at the car to enjoy the cream teas that we were looking forward to, the heavens suddenly turned the taps full on so that we were in monsoon-style torrential rain, which made the preparation of scones, cream and jam rather challenging, even under several umbrellas, and photography was impossible! But it was a good day nonetheless and all the funds raised go to support people affected by leprosy in Nepal.
Many thanks to all those who supported us.