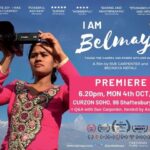 As we mentioned in the previous post, the film premiere of 'I am Belmaya' is tonight (4th October) and there is another showing on 14th October. The details are:
You are warmly invited to the Premiere on Monday 4th October, 6.20pm, at Curzon Soho, 99 Shaftesbury Avenue, London W1D 5DY. There will be a Q&A with me, hosted by BBC broadcaster Ashanti Omkar – and we'll have drinks afterwards at the bar.   Booking link
Further screenings
There will also be a screening at DocHouse with Q&A with me at Curzon Bloomsbury, The Brunswick, WC1N 1AW, on 14th Oct. Other screenings booked so far are in Manchester, Leeds, Saffron Walden and Hebden Bridge. Full list here, which I'll keep updated.  We hope there will be more to come!
The film will be available online on demand at Curzon Home Cinema and BFI Player from 15th Oct.
The producer Sue Carpenter would love supporters to help the films success in the following ways:
Here's how you can help this film to be a success!
The window from 4th to about 24th October is critical – if cinemas and online sales do well, the film will get noticed, and that may help secure international distribution deals, which will allow us to follow through our impact plans and make more of a difference to Belmaya and other women and girls in Nepal. We'd be so grateful if you could do any of the following:
 attend a cinema screening

 encourage friends to watch the film online on demand – especially from 15th-24th Oct, the official week of release

 write a positive review and/or star-rate the film on IMDb. We had such warm and effusive feedback after our screening events – it would be wonderful if you could add yours here. (You will need to create a free account; then scroll down to User Reviews, and click + Review.)

 follow us and share our social media posts – all at @iambelmaya

 share this information and recommend the film by word of mouth
arrange a screening in a local community centre or other venue, or put us in touch with a local independent cinema or arts centre or school. (I'm also happy to run further private screenings via Eventbrite, with live Q&A – just contact me to discuss.)